It is important to look for possible underlying causes of postural orthostatic tachycardia syndrome (POTS).  Finding and treating those medical problems can allow better management of POTS symptoms. 
Ehlers-Danlos Syndrome (EDS)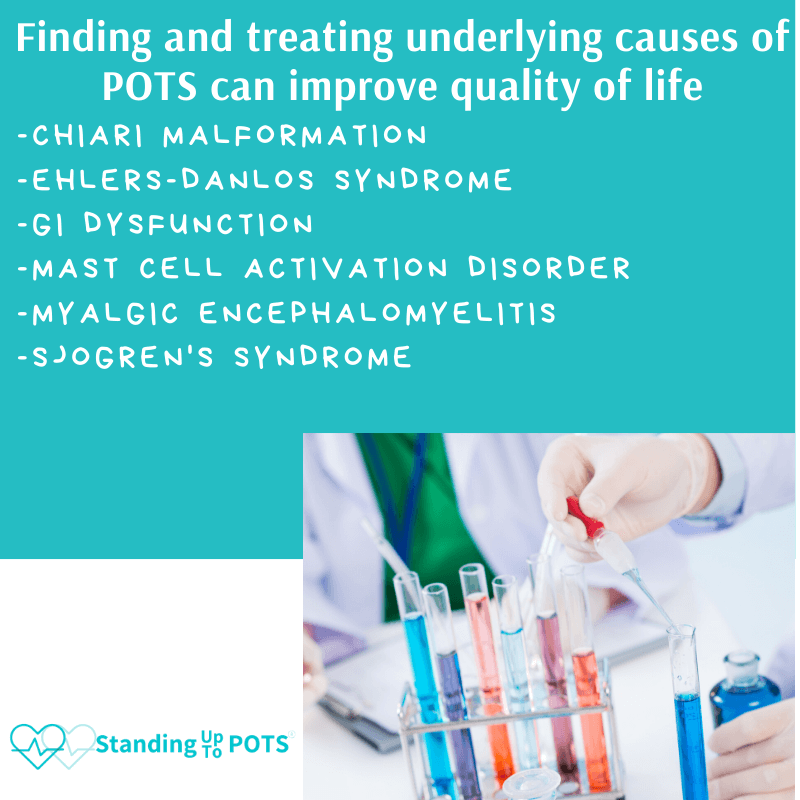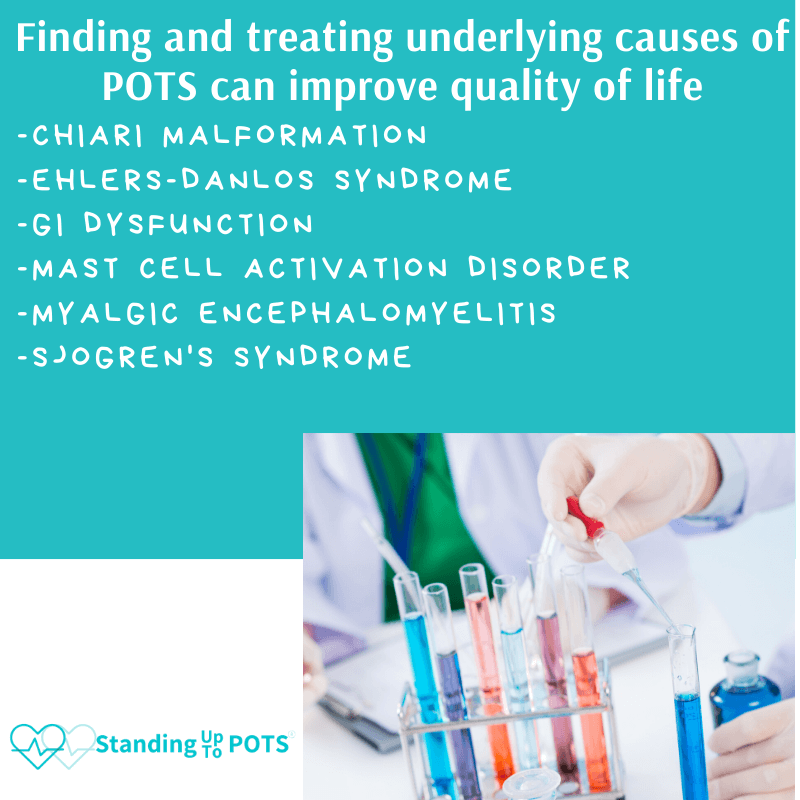 Eighty percent of people with Ehlers-Danlos Syndrome have POTS (but not the other way around). Most people with POTS have Type III EDS which is the hypermobility type. There is currently no known gene for this type of EDS, so diagnosis is made using family history and clinical evaluation. To meet the criteria for EDS Type III, patients must meet at least one of the major diagnostic criteria and two minor criteria.
Major Diagnostic Criteria for the Hypermobility Type of EDS
Joint hypermobility, which usually is confirmed by a score of five or more on the nine-point Beighton scale including:
-One point for bending the pinkie finger backwards beyond 90º
-One point for pulling the thumb to the forearm
-One point for hyperextension of each elbow >10º
-One point for hyperextension of each knee >10º
-One point for placing the palms on the floor with the knees fully extended
Soft or velvety skin with normal or slightly increased extensibility. A skin flap greater than 1.5 cm indicates increased extensibility.
Absence of skin or soft tissue fragility, which is suggestive of other types of EDS.
Molluscoid pseudotumors
Surgical complications, such as incisional hernia, wound splitting, or sutures tearing through tissues and failing to hold.
Minor Diagnostic Criteria for the Hypermobility Type of EDS
Family history of similar features without significant skin or soft tissue fragility in a pattern consistent with autosomal dominant inheritance
Recurrent joint dislocations or subluxations
Chronic joint or limb pain
Easy bruising
Functional bowel disorders (functional gastritis, irritable bowel syndrome)
Neurally mediated hypotension or postural orthostatic tachycardia
High, narrow palate
Dental crowding
If you are interested in Ehlers-Danlos Syndrome, please check out this page from the National Institutes of Health or the Ehlers-Danlos Society.
Click here to find scientific articles on Ehlers-Danlos Syndrome.