Standing Up to POTS works with people across the country to raise money to support POTS research and to continue awareness campaigns.  Without people like you, we would not be able to continue to work for the POTS community.  For many, this is their first experience at fundraising while others have experience in other venues.  Together, we can work to raise funds to increase quality of life for people with POTS through research, advocacy, and support. 
If you would like to host an event where some or all of the proceeds will be donated to Standing Up to POTS, we hope that you will contact us at mailto:volunteer@standinguptopots.org.  There are so many ways that you can raise money for Standing Up to POTS.  Consider using Facebook, Instagram, Twitter, LinkedIn, YouTube, a blog, or any other platform when fundraising for Standing Up to POTS.  These are great ways for you to recognize your donors, ask for donations, and share your story.
Here are some fundraising events people have done in the past:
Get your children's school involved.

Have classrooms compete to bring in the most "pennies for POTS," with a donut party for the winning classroom.
Ask your school's chapter of the National Honor Society or another organization to create a service project that raises money for Standing Up to POTS.
Ask the administration to pass the helmet at a football game (or a similar idea with other sports) with proceeds to benefit Standing Up to POTS.

Dine to donate. Speak with the manager at your favorite restaurant to see if they would be willing to donate 20% or more of their sales for a few hours one evening and invite your business and social network for a night on the town.  Many chains and local restaurants are willing to donate a portion of their proceeds for certain hours on one day.   It is a win for the restaurant, as your event may bring new customers to their establishment.
Donate proceeds from a class. Ask a fitness instructor or artist to host a class and donate the proceeds to Standing Up to POTS. 
Charity sports tournament.  Charge an entry fee for teams to come play in a tournament.
Online fundraiser.  You can use social media to donate your birthday to Standing Up to POTS, create an event for an auction or dine-to-donate event, or link directly to our Donate page.
Silent auction. Organize a silent auction in which you ask local businesses to donate items and then auction them.  You can do this as a single event or add it to an existing one.
Sell a homemade product.  One family created and sold books about growing up with POTS to raise money, but it can be anything that you enjoy and are good at!
5K walk/run. This takes time and strong organization skills, but businesses are often willing to support an event for a good cause like Standing Up to POTS!  Click here for guidelines on organizing your own 5K.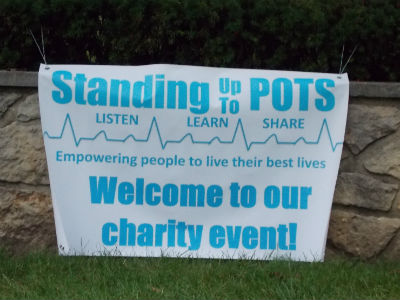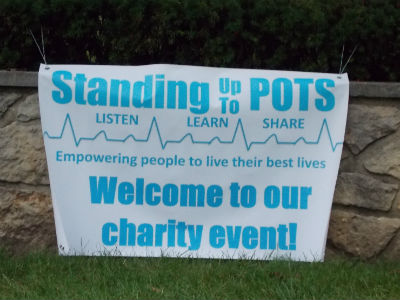 Other ideas of events that you could organize:
Car wash
Raffle – 50/50 or prize
Jewelry party
Community Garage/Yard sale
Wine tasting event
These are just a few ideas that you can raise money for Standing Up to POTS. We appreciate your interest in helping us to fulfill our mission to support POTS research and raise awareness in the general public.
Four Step Fundraising Method
Step 1: Prepare
Think BIG about your potential audience. Everyone is a potential donor. Take some time to brainstorm a list of people who might donate this year. Don't be afraid to ask people who live outside of your community to support you.
You might start with:
Friends and family
Current or former colleagues and classmates
Donors who have supported you in the past
Your professional, volunteer or religious network
Your social media connections
Practice telling your story by asking yourself the following questions. Your answers might help you to inspire donors.
What does Standing Up to POTS mean to me?
Why did I make a commitment to Standing Up to POTS?
What are my goals this year?
How has POTS impacted my life and why do I believe it's important to fund POTS awareness campaigns and research projects?
If a friend told me that her donation wouldn't really make a difference, what would I say?
Step 2: Ask
The most successful fundraisers ask as many people for support as possible, in very personal ways. Start by creating an email or mailing list of the people you identified in Step 1, and then write your first communication. An excellent fundraising email or letter should address the following questions:
What is Standing Up to POTS and where does the money go?
Why am I supporting Standing Up to POTS?
What is my fundraising commitment and how much progress have I made?
How can a donor support me?
Our fundraising brochure might help you to think through answers to some of these questions.
Sample email:
Dear family, friends, and colleagues,
As you know, postural orthostatic tachycardia syndrome (POTS) has greatly affected my life ... (add your specific details here). Over the years I have come to realize that not much is known about POTS, including what causes it or how to treat it. Currently all treatments for POTS are off label. I'm sure you can understand how heartbreaking it can be to have an illness that raises more questions than answers. Lots of research has been conducted lately, including looking into whether some forms of POTS may be autoimmune.
I am working to raise funds for Standing Up to POTS so that they can help to improve quality of life for people like (me, your loved one) through scientific research and awareness campaigns. This organization is run 100% by volunteers, so you can rest assured that your donation is going straight to funding research and awareness campaigns. Standing Up to POTS has already published several scientific articles from research that they have conducted in addition to publishing awareness articles. They also sponsor events to raise both awareness and funds like the Standing Up to POTS 5K. You can donate by clicking the link included in this email.
Thank you so much,
XXXX
Have a friend or family member review your letter before you send it.
Here's a quick elevator pitch that you can use to talk about Standing Up to POTS with potential donors:
"I'm involved with this amazing organization called Standing Up to POTS where 100% of the money raised will go toward funding research to improve the quality of life for people with postural orthostatic tachycardia syndrome (POTS). I (or my loved one) has been diagnosed with this disorder that affects the autonomic (automatic part) of the nervous system and causes a wide range of symptoms. There's no shortage of ways you can get involved, and I'd love to tell you more!"
Matching gifts are a great resource for employees who have this benefit through their employer. Employees can sometimes have their company match their gift to Standing Up to POTS by filling out the appropriate paperwork.
Step 3: Remind
As you fundraise, you'll encounter donors who pledge their support but may forget to follow through. This is why it's important to send reminders to the people who've pledged to support you.
Step 4: Thank you
As time-consuming as it can be, nothing is more important than taking the time to say thank you to all of the people who supported you.